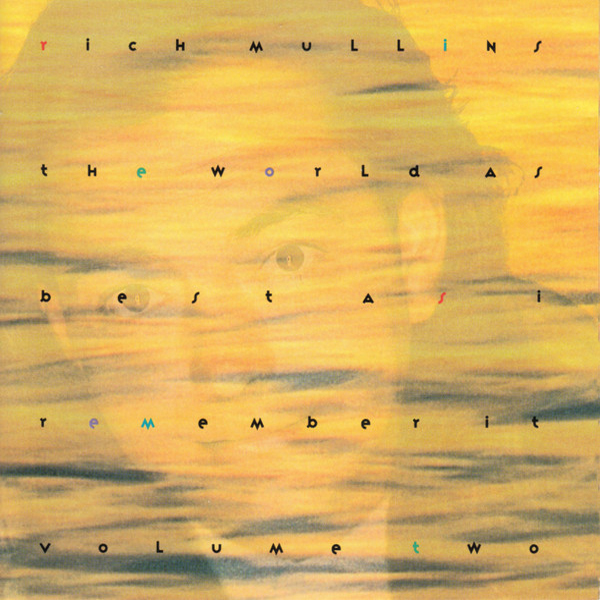 The World as Best as I Remember It, Volume Two
1992 Reunion Records
1.
Hello Old Friends
(Rich Mullins)
2.
Sometimes By Step
(Rich Mullins and Beaker)
3.
Everyman
(Rich Mullins and Beaker)
4.
The Just Shall Live
(Rich Mullins)
5.
Waiting
(Rich Mullins and Beaker)
6.
To Tell Them
(Rich Mullins)
7.
The Maker of Noses
(Rich Mullins and Beaker)
8.
What Susan Said
(Rich Mullins)
9.
Growing Young
(Rich Mullins and Beaker)
10.
All The Way My Savior Leads Me
(Words by Fanny Crosby, Music by Robert Lowery, arranged by Rich Mullins)
11.
Sometimes By Step
(Reprise) (Rich Mullins and Beaker)
Rich Mullins: vocals, Piano, Lap Dulcimer, Hammered Dulcimer.
Billy Crockett: guitars.
Gordon Kennedy: guitars.
George Cocchini: guitars.
Tom Hemby: guitars.
Reed Arvin: Piano, keyboards, String Arrangements
Phil Madeira: B-3, Organ.
Garry Lunn: Bass Guitars.
Eric Darken: percussion.
Steve Brewster: drums, rototoms, Fingersnaps, Footstomps, cowbell, Suspended Cymbal, Culligan Water Bottle.
Mark Hammond: drums.
Kris Wilkinson: Strings
Ted Madsen: Strings
David Davidson: Strings
John Catching: Strings
Background Vocals by Lisa Glascow, Mike Eldre, Michael Sandifer, Stephanie Hall, Camille Renaldo, Mark Ivey, Owsley, Millard Powers, Kevin Max, Billy Simon.
The Choir: Donna McElroy, Vicki Hampton, Kim Fleming, Mervyn Warren, Vince Ebo, Bob Bailey, Howard Smith, Emily Harris, Robin Johnson.
Produced by Reed Arvin.
Executive Producers: Michael Blanton, Don Donahue.
Engineered by Ronnie Brookshire, Billy Whittington, Lynn Fuston, Rick Will, Steve Bishir and Reed Arvin.
Recorded at Quad Studio, The Saltmine, Benson and Soundstage
Mixed by Rick Will at Soundstage Assisted by Melanie Jones.
Mastered at Mastermix by Hank Williams.
Art Direction by D Rhodes and Buddy Jackson.
Photography by Mark Tucker.
Design by Buddy Jackson for Jackson Design.
Copyright © 1996-2015. Eric Townsend All Rights Reserved. Do not reproduce or publish without permission.