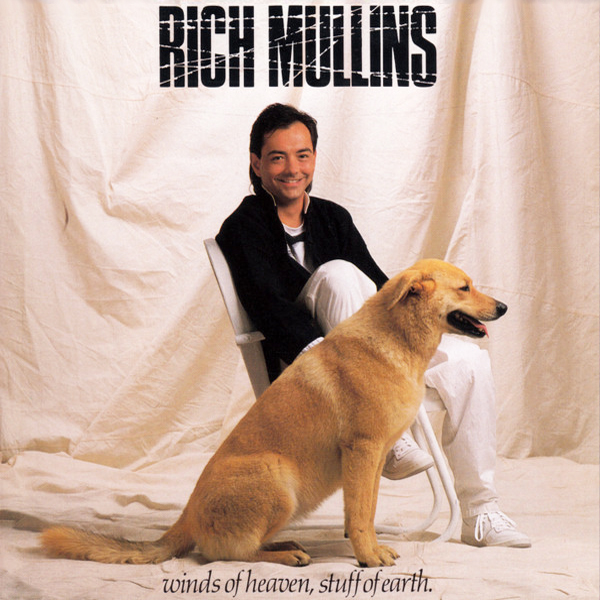 Winds of Heaven, Stuff of Earth
1988 Reunion Records
1.
The Other Side of the World
(Rich Mullins)
2.
With the Wonder
(Rich Mullins)
3.
Awesome God
(Rich Mullins)
4.
If I Stand
(Rich Mullins and Steve Cudworth)
5.
Home
(Rich Mullins)
6.
Such a Thing as Glory
(Rich Mullins)
7.
...and I Love You
(Rich Mullins)
8.
Ready for the Storm
(Dougie MacLean)
9.
One True Love
(Rich Mullins and Steve Cudworth)
10.
How Can I Keep Myself from Singing
(Rich Mullins)
Rich Mullins: lead and background vocals
Reed Arvin: keyboards, Synclavier
Fred Carpenter: fiddle
Keith Edwards: drums
Jon Goin: guitar
Gary Lunn: bass guitar
Jerry McPherson: guitar
Craig Nelson: bass guitar
Rafael Padilla: percussion
Michael W. Smith: acoustic piano
Background vocals by Alan Arnett, Janis Ellen Broughton, Heidi Brown, Susan Coker, Scott Coupland, Lyn Curley, Jennifer Farrar, Allison Gordley, Pam Mark Hall, Christopher Harris, Paul Harris, Mark Heimermann, Kim Hill, Bonnie Keen, Wayne Kirkpatrick, Bryan Lenox, Lori Lee Loving, David McCracken, Marita Meinerts, Carmen Minard, Pam Ourada, Cynthia Ratliff, Mark Ratliff, Chris Rodriguez, Billy Simon, Billy Sprague and Melodie Tunney
Produced by Reed Arvin.
Executive Producers: Terry Hemmings and Jeff Moseley.
Mastered by Hank Williams, Jr.
Mixed by Brent King, and Jeff Balding.
Arranged by Reed Arvin.
Photography by Glenn Hall
Design by Buddy Jackson
Copyright © 1996-2015. Eric Townsend All Rights Reserved. Do not reproduce or publish without permission.